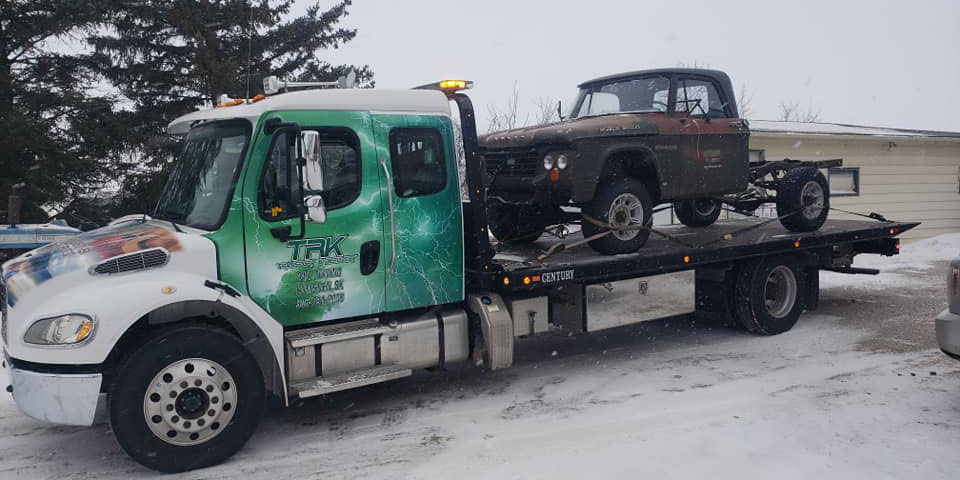 TRK Towing and Recovery started their business in 2014. If you ask Cayson how to spell tow truck, he might tell you TRK. We are good with that. Our family-owned business operates out of Lumsden, Saskatchewan. We are available 24/7/365 because trouble doesn't respect 9 to 5. Our crew is committed to safety and customer satisfaction. We understand that our customers are frequently stressed when they call us. Relieving that stress quickly and safely is our top priority.
TRK Transport & Recovery provides the public with a friendly towing & recovery service. Vehicle transport and hot shot services as well. We provide service to Lumsden, Regina, Moose Jaw, Chamberlain, Saskatoon, and all points in between. From fuel delivery to a specialty recovery. We are on the road for you. Give us a call today! 306-731-3808 – 306-531-8881.

Vehicles breaking through river or lake ice is a part of life in Saskatchewan. Not just cars and trucks, but snowmobiles and trailers too. Some also end up in the drink when the ice has disappeared. These incidents require a specialty recovery. TRK Transport & Recovery is Saskatchewan's definitive provider of specialty vehicle recoveries. We often partner with Fireside Scuba & Recovery. Call us if your vehicle goes for a dip. 

Towing & Roadside Assistance
We provide a wide variety of towing services. This includes light and medium weight towing. Flat deck, wheel lift, and 4×4 towing. Roadside assistance is also available 24/7/365. Run out of fuel, dead battery, or keys locked in the vehicle? We provide roadside assistance. Our drivers can process mobile payments for Interac and major credit cards. We also deal with Roadside Assistance insurance programs.

Sometimes you need something to be hauled somewhere and regular towing is not an option. Maybe you need a Bentley hauled from Winnipeg to Calgary? You want to protect the vehicle. It needs to be in an enclosed trailer. TRK Transport & Recovery can handle that for you. Heck, we already have. Farm equipment, skid steer, or a small building? We can haul those too. Across the street or the country. Call TRK Transport & Recovery.
The things that rubbernecks look at, we often have photos of. From mangled, twisted vehicles to the General Lee. We have a wide variety of photos sure to appeal to most of you. Please enjoy our photo gallery. If you have any questions about any of the photos, please send us an email. We are happy to answer any questions that you might have. Please use the contact form found below.